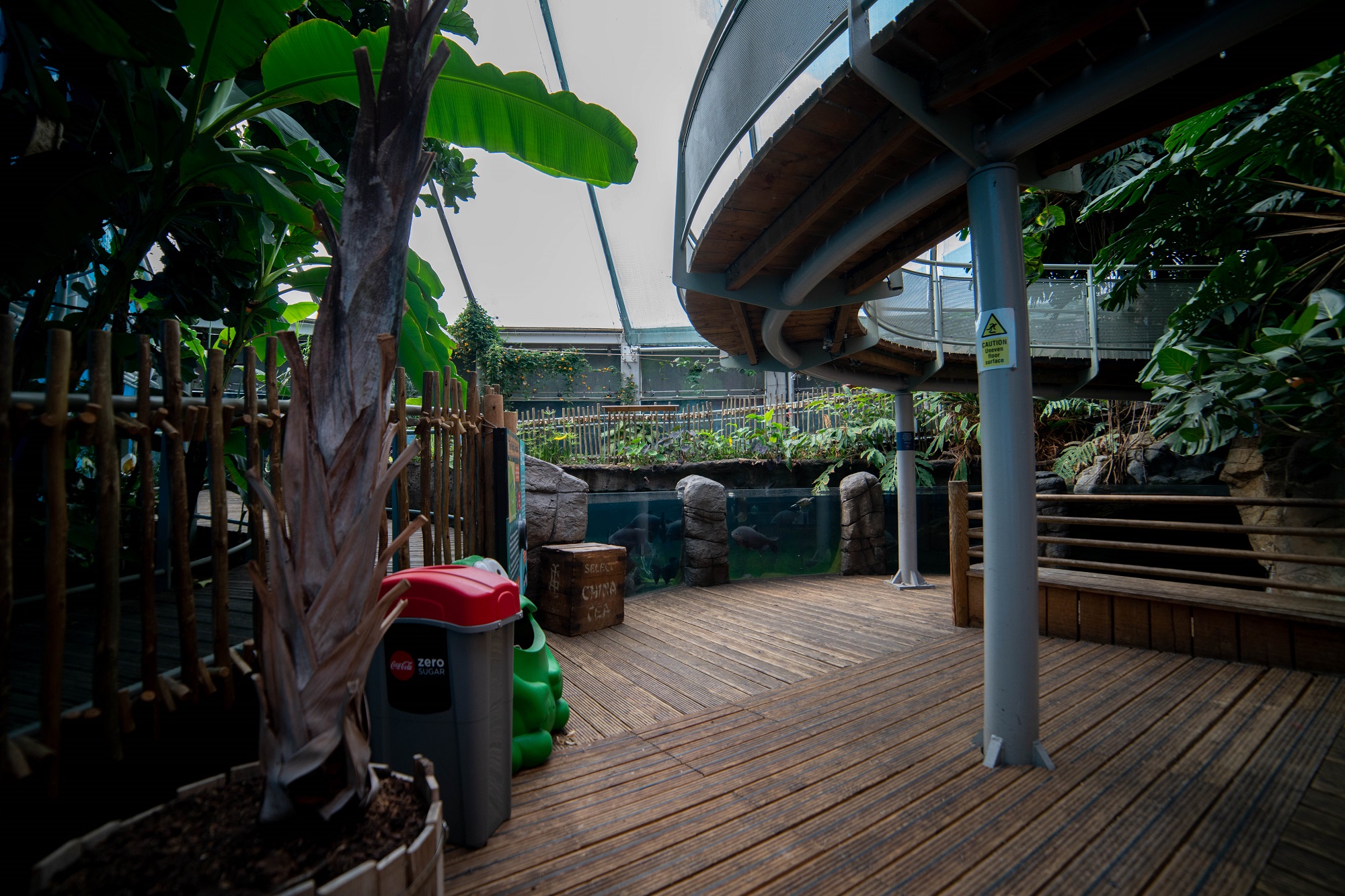 Immerse yourself in the world of the Amazon and be transported to a tropical, open-top display filled with an array of fascinating sea creatures.
Recreating the world's largest tropical rainforest, our Amazing Amazon exhibit is a truly spectacular sight, home to species such as turtles as well as tropical fish. The Amazon itself is one of the most biologically diverse places on Earth, but here at Bristol Aquarium you can get a taste of it and understand just what life is like in that part of the world.
Amazing Amazon's atmosphere
Step inside our Amazing Amazon exhibit and prepare to be impressed. We have created an immersive boardwalk that leads you to our breath-taking, open-top Amazon display. Yes that's right, our unique exhibit has an open top to really try and replicate life in the Amazon rainforest, giving you an authentic experience as you wander through.
The water temperature is typically between 24-28 degrees to keep our animals comfortable, while the air temperature is similar to that of a tropical, humid climate. Designed to recreate life in South America, it's a warm welcome from the often wet and chilly British weather!
Our Amazing Amazon exhibit is part of the Urban Jungle display we have here at Bristol Aquarium – which is the only botanical house within a UK aquarium! Linking these two together gives you the opportunity to see some interesting creatures and unique plants and flowers in one beautiful, nature-driven place.
All about Amazing Amazon
Holding over 60,000 litres of freshwater, our mighty Amazon open-top display is home to a number of animals, all of whom are native to North and South America. In our efforts to bring you just a little slice of rainforest life, you can experience some of these species up close and in more detail than you would out in the wild. Every day at 2:30pm you can witness the feeding frenzy that happens here, and learn more about turtles, terrapins, fish and more.
Housed in our second botanical house, the Amazing Amazon exhibits is home to our water displays and also turtle bay island, where you might be able to spot our resident turtles and terrapins relaxing or bobbing around in the water. 
What animals are at Amazing Amazon?
So what exactly can you see at Amazing Amazon? We have a number of fascinating species for you to learn more about…
Mississippi map turtle – in the US, the name turtle is given to both marine turtles and semi-aquatic terrapins, but in the UK a turtle is known as an animal that spends all its time in water, and a terrapin spends time on land and water. With that in mind, the Mississippi map turtle would be called a terrapin in the UK. They live all along the Mississippi river, covered in markings and lines that look like contour lines of a map, which is how it gets its name. They are typically very timid and prefer to be in the water, being excellent swimmers even in strong currents.
Red-eared slider – another terrapin, the red-eared slider gets its name from its distinctive red mark around the ear, along with their ability to slide off rocks quickly into the water. They can live up to 70 years old, with the females typically being bigger than the males.
Black pacu – the black pacu is a close relative of the piranha, but they are much more peaceful and often eat fruit, waiting for overhead monkeys to drop any bits of fruit and seeds from the trees. They have incredibly strong jaws and could even crack a Brazil nut if they wanted to!
Red pacu – red pacu are very similar to their black counterparts, but there are some differences in their appearance. Red pacu are typically smaller, but they do have a similar diet of fruit as well as insects and small fish. Both black and red pacu prefer living in shallower waters with overhanging vegetation, and they will migrate to forests when they flood in wet seasons. 
Who is Amazing Amazon for?
Whether you're keen to learn more about the rainforest climate and what makes it so biodiverse, or you're longing for a better understanding of what makes a terrapin different from a turtle, Amazing Amazon has something for everyone. From budding botanists to those who just want to enjoy looking at some unique fish swimming around, both young and old will take something away from our display.
Sit and relax amongst the warm climate and wildlife, or follow the multi-level walkway and boardwalk back and forth until you've taken it all in. No matter what you're hoping to get out of your visit to Amazing Amazon, we're sure you'll find it.
Accessibility
At Bristol Aquarium we have worked really hard to ensure that all of our displays are accessible to all visitors. For more information or if you wish to get in touch with our team before your visit, check out our accessibility page.
Current Water Temp
24 – 28
/ 75 – 82
Water Type
Fresh
In This Exhibit
5 Species
Where are we?
South America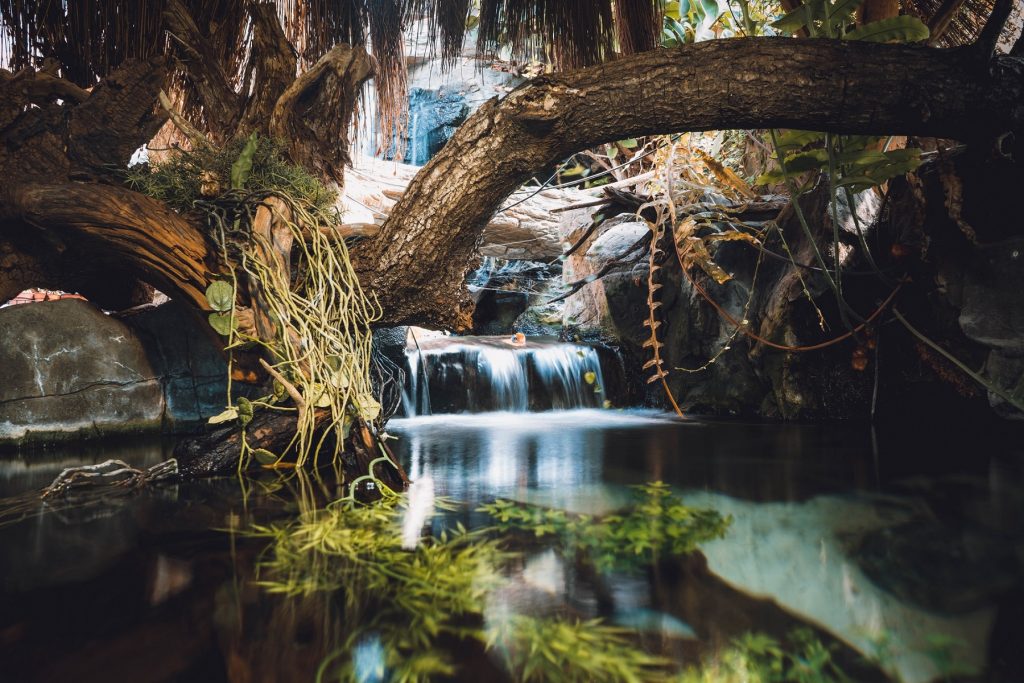 Favourites In This Exhibit