Looking for things to do in Bristol at Halloween and October Half Term? As ever, we've got you covered at Bristol Aquarium, with two spooktacular, fun-packed events for all the family – as well as our usual selection of amazing displays and daily talks – taking place over the school holidays.
So without further ado, let's see what's in store!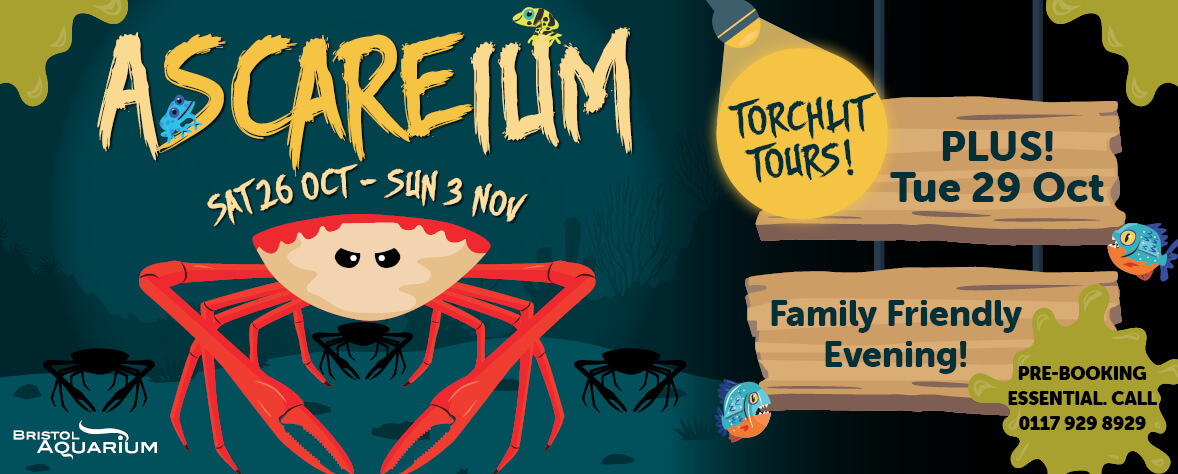 A'scare'ium!
Saturday 26 October – Sunday 3 November
Delve into the deep dark depths of the ocean this Halloween at our brilliant family event, A'scare'ium (do you see what we did with the name?), which gives you the chance to discover what's lurking in the depths, with loads of gruesome facts and spooky tales that will give you a new appreciation of our deep sea creatures and their creepy cousins.
The highlight for the non-squeamish must be a special, hands-on squid-dissection session – watch out for the mad scientist, though. You can also enjoy a mini tour of the scariest underwater creatures like spider crabs, piranhas and eels – and see if you can spot the sunken pumpkins on your way around!
We're open 10am-5pm with last entry at 4pm, pre-purchase tickets online to save.
Plan Your Day: Download our talk slip here with all the daily talks, feeds and activities!
Evening Torchlit Tour
Tuesday 29 October, 5.30pm-8pm
Here's an extra special – and extra spooky – treat for anyone coming along to our A'scare'ium event on Tuesday 29 October, as we take you on a terrifying torchlit tour, revealing everything that goes on after hours at Bristol Aquarium – and everything that goes bump in the night.
Your tour guide will take you on an underwater odyssey in the dark, meeting creepy creatures of the dark. The family friendly adventure will feature loads of grotesque tales and freakish facts about what lurks beneath the surface of the water.
Tours will be intimate and limited to the following times, so pre-booking is essential!
• 5:40pm-6:40pm
• 6:00pm-7:00pm
• 6:20pm-7:20pm
• 6:40pm-7:40pm
• 7:00pm-8:00pm
Please call our team on 0117 929 8929 to book your place – availability is on a first come first served basis, so be quick!
Events and Exhibitions
Of course, it doesn't have to be a spooktacular Halloween event that brings you to Bristol Aquarium. Whichever day you swim on by, you'll be able to enjoy exciting talks and enthralling creature feeds by our fantastic team. We always have something lurking beneath the waters and you won't want to miss a thing!
Every day at the aquarium we have a full programme of talks and feeds. Check it out:
11:30am – Daily – CORAL REEF
1pm – Daily – BAY OF RAYS
2:30pm – Mon, Wed, Fri, Sun – SEAHORSES
2:30pm – Tues, Thurs, Sat – AMAZON RIVER
4:00pm – Mon, Wed, Fri – NATIVE SHARKS
4:00pm – Tue, Thu, Sat, Sun – ROCKPOOL
Tickets are valid all day, so you can stick around to view all of our live talks and feeds. And if you miss a talk you were keen to hear, speak to one of our friendly aquarists, who can give you a bit more information about our animals.
Can't wait for your visit this October half term? Get your tickets now and save 10% when you buy online!