Bristol Aquarium has been voted by Bristolians as the top place to go on a first date!
The online dating app eharmony has taken a deep dive into the dating lives of Bristolians and has found that people have enjoyed having their first dates mingling with sea life.
On your first date, you can read our signage, listen to our talks, and point out our wonderful creatures.
We are currently running our Bon Voyage summer campaign, so if you're looking for a break from the sun, dip into our aquarium to see how we have transformed our foyer into a port terminal hub! We're excited to provide guests with an immersive experience where they can explore the world's oceans.
You and your date can stamp your passport as you go around our talks and activities. You could even have a little competition between yourselves on who could come up with the best name for our new octopus!
You can also spot some of our residents that have a romantic side! Did you know that clownfish have a love hormone and choose to be exclusive with one partner?
Another romantic creature that you can find in our aquarium are seahorses! Seahorses find a companion that they'll stay with for life. They're monogamous creatures, meaning they only mate with one other seahorse for their entire lives.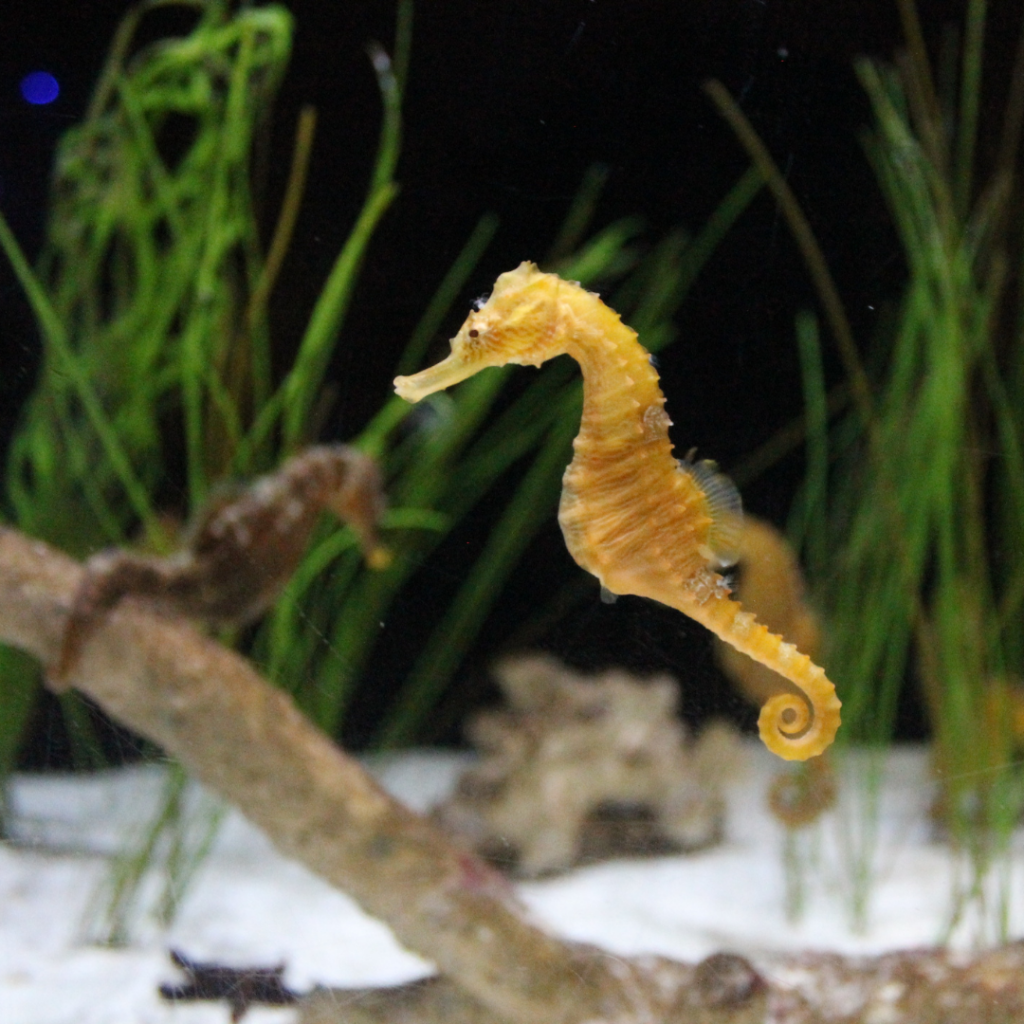 Seahorses engage in a fascinating display of courtship. The male may spend days swimming tail in tail with a female. This display is believed to help the seahorses synchronize their movements with one another. They may also change colour during their ritual, varying between lighter and darker shades.
Following these rituals, the male begins to display his brood pouch to his partner. In their final display, the two release their hold from the sea grass and float toward the surface while the female deposits her eggs into the male. Then the male becomes pregnant and carries the young through gestation and delivery. Seahorses are the only species where the male gets pregnant, making these interesting creatures even more wonderful!
Throughout the male's pregnancy, the female returns to the male each day and the two engage in a "morning greeting." For a couple of minutes, they dance alongside one another to help reaffirm their bond. Once a seahorse has found a mate and made this bond, they usually are then a pair for life.
If you are lucky, on your date you may spot some newly born seahorses at the top of the tank!
Have you been on a date here? If your date has gone swimmingly well, please get in touch and let us know, we would love to hear your story.
Bristol Aquarium is made up of seven themed zones and is home to thousands of aquatic creatures, located on Bristol's harbourside, right in the heart of the city.
Come and visit us at Bristol Aquarium, Anchor Road, Harbourside, Bristol BS1 5TT.
We are open 10am daily (everyday except Christmas Day).
Call 0117 929 8929, or browse our website for more details.