A sextet of seahorses are undergoing dramatic colour changes as they settle in to their new home at Bristol Aquarium.
Despite all six being members of the same species they have distinct colouration and markings as a result of the environment they were brought up in.
An adult female which was donated to the Harbourside attraction by their sister Blue Reef Aquarium in Portsmouth was olive green when it arrived but has now transformed into a bright yellow colour.
The other five captive-bred juveniles were a dark brown colour on arrival but have now developed white stripes.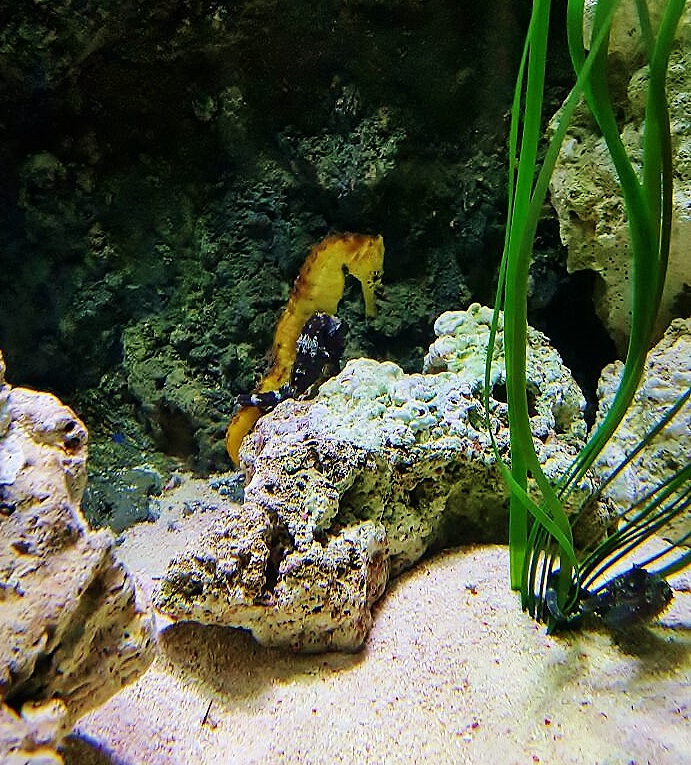 Bristol Aquarium's display supervisor Olivia Orchart said: "These apparently radical changes in colour and patterning are partly due to genetics.
"However they are mainly due to the different environments they were in before they arrived, where they have adapted their appearance to keep as camouflaged as possible," she added.
The lined seahorse lives in the Atlantic Ocean as far north as Canada and as far south as the Caribbean, Mexico, and Venezuela.
It is officially listed as 'Vulnerable' in the IUCN red list of threatened species.
A 'Vulnerable' species is one which has been categorised as likely to become 'Endangered' unless the circumstances threatening its survival and reproduction improve.
In the wild virtually all of the approximate 35 species of seahorse are now under threat from a variety of sources.
These include loss of habitat, pollution, the souvenir trade and traditional Far East medicine – believed to account for the deaths of more than 20 million seahorses annually.
Bristol Aquarium has a hugely successful captive-breeding programme for a variety of at risk seahorse species. One of their biggest ongoing successes is with the big bellied seahorse.
During the summer of 2012 alone more than 4,000 babies were born!
For more information please contact us on 0117 929 8929 or to read more about our Tropical species please click here.