Bristol Aquarium has welcomed on display a new turtle this week. The side-necked turtle is a new species to the collection at the city centre attraction.
The Geoffroy's side-necked turtle (Phrynops geoffroanus) arrived to Bristol Aquarium a few weeks ago from the recently closed Seaquarium in Weston-super-Mare and is now ready to go on display to the public!
This South American species is a large, female side-necked turtle, which basically means she tucks her head to the side instead of inside her shell.
Joe Feasey-Kemp, Aquarist at Bristol Aquarium said: "This is our only South American turtle species and she is a great addition to the collection here at Bristol Aquarium. You'll find her basking on a platform or sat at the bottom of the water because she isn't actually the best swimmer!
"She is so adorable, if you look closely you'll notice she looks like she's always smiling!" Joe added.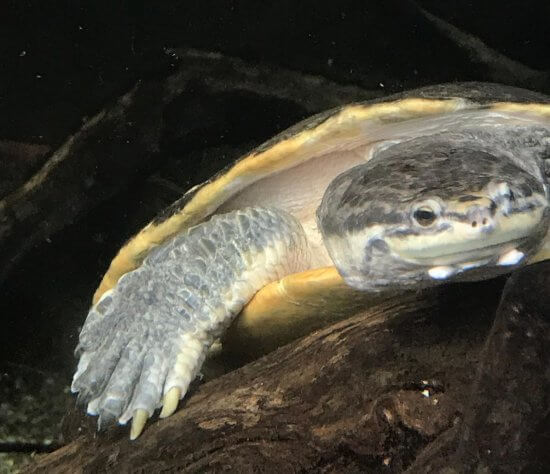 The Geoffroy's turtle enjoy basking in the warmth so she is being added to the Aquarium's botanical house, where it will be warm and sunny. Bristol Aquarium's botanical house is known as the Urban Jungle, and Bristol is the only Aquarium in the UK with such a feature, filled with exotic plant species.
Bristol Aquarium is located in the city centre on the historic Harbourside and is home to thousands of marine life like pufferfish, seahorses, sharks, rays and more.
To visit Bristol Aquarium's new turtle and immerse yourself in the urban jungle, find out all the details on our website and buy discounted tickets online.